My XT6 : March 5 2000

if finally got some pictures of my car! amazingly enough! so here they are (click on em to make em much bigger!)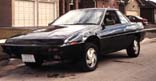 My XT6 : January 6 2000
well so far so good. ive been driving my car for about 5 months now. and no real problems. except for a little alternator trouble. ive been good to go!. i still need to fix my fog lights. ive never seen them work.. and i really should clean it up a little. im messy.. also its time to change its oil.. id like to get myself a second set of tires. some plain old steel rims and ill put a good set of winter tires on it., and when i can afford it ill , put a really good set of street tires on the aluminum rims. any suggestions for tires??
the following are old pictures
My XT6 : August 1st 1999
i got it back from the shop.. its painted Black!.. and all the bodys is fixed.. its not a perfect job. but its still very very very good.
im very impressed. i also got a K&N Air Filter so that should help me out passing :)
I bought a New Battery For it. cause the old one was beyond its years and now. i have too..
- replace two tires
- get new Fog Light Relay
- Take Emmissions Test - and PASS! (i dont think that willl be a big problem)
- Get the Car Certified
Get it Insured
Replace the Car Deck with a Pioneer 6000, deck with CD
get a GPS :) or some kinda Automobile Navigation system
ill post some pictures of my now Black XT6 as soon as i can.
i currently have pictures in the pictures page of this site. so go have a look
---------------------------------------------------------------------------------
the front axle boots were fixed, and i removed some heat shields from the exhaust. to get rid of some clatter that was annoying me.
Current Status of my XT6 (June 13 1999)
My XT6 is Currently in the Shop.. getting its body fixed :-)
May 27 -1999
- Power Steering is working..i dont know how.. it just started working.. lets hope it stays that way :)
- reinstalled my alternator that i had refurbished.. looks and works well.. could be a tiny bit better
- Fog lamps work... prob cause alternator now works :)
- the valve clatter,,, amazingly just stopped.. and it works wonderfully now..
hopefully within the next two weeks.. we will be sending the car out.. to have the rocker pannel repaired.., and the body repaired and then Painted , a glossy black :) im so excited .. ill keep you posted..
oh yeah.. this car is so fast.... its amazing.. the specs from the engine dont seem like much.. but its got some power..
current status of my Xt6
- Sitting in my garage waiting for the :

Alternator to be repaired / replaced,
Power Steering to Be repaired,
valve Clatter to be Fixed
Battery to be replaced (might not need too)
fog light switch to be fixed
Rocker pannel to be fixed
headlight washer thingy to be made to work :)
body to be repaired ( minor rust) in progress
and for my grand finally.. its waiting to be Painted.. Black
it may seem like a lot of work. but that dont matter :) cause its an XT6